In the neighborhood of Grand Central Market in our 120 seats restaurant we expect the Hungarian cuisine-loving guests! This environment is perfect for a pleasant lunch or an informal chat, nostalgy, entertainment, as well as bursts of singing next dinner!
We welcome anyone who wants a little "home side" or if 1-2 hour or so, but would like to break away from the city's gray monotonity!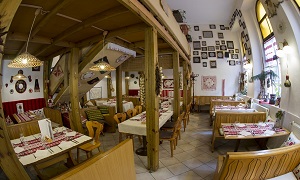 A restaurant can only be managed in 3 ways: well, not well and as I want!
Our main effort is to introduce the unique Hungarian tastes to tourists visiting our country and our Hungarian guests could re-discover how wonderful and flavourful our kitchen is.
Our food is really tasty, home-cooked,as they were made from fresh, high quality ingredients in the neighbourhood of the Central Market!
The mood and atmosphere of the restaurant brings back the old Hungarian past to our guests: the painted plates on the walls, pitchers, crocheting, embroidery, tools related to the former crafts and items made at that time. As our collection grows with the folk art objects, our restaurant renewed from time to time by these items.
Trolleybus 83:
'Fővám tér' stop
Tram 2, 47, 49:
'Fővám tér' stop
Metro 3:
'Kálvin tér' station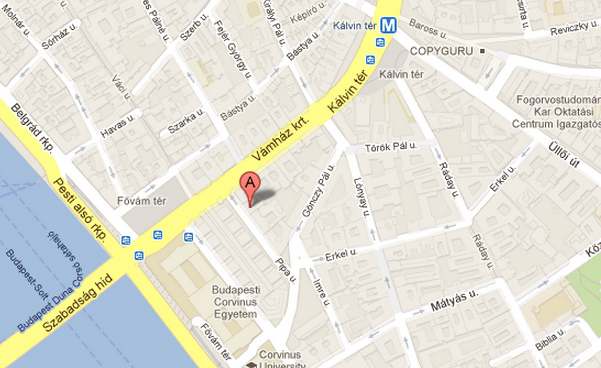 Soups
| | |
| --- | --- |
| Goulashsoup | 1 800,-HUF |
| Transylvanian chicken ragout soup | 1 800,-HUF |
| Home made meat soup | 1 550,-HUF |
Appetizers
| | |
| --- | --- |
| Hungarian coldhors-d'ouevre | 2 400,- HUF |
| Pancake a la "Hortobágy" | 1 150,- HUF |
| Cold goose liver in grease with mixed salad | 2 400,- HUF |
| Smoked sturgeon with mixed salad | 2 400,- HUF |
Main dishes
| | |
| --- | --- |
| Crispy roasted duck with cabbage potato pie | 4 500,- HUF |
| Paprika chicken with egg noodles | 3 500,- HUF |
| Roasted goose liver with with grape, honey and tokaji sauce and potato croquettes | 6 300,- HUF |
| Roasted pig with homemade mixed pickles and steak fries | 4 100,- HUF |
| Schnitzelin Mátra style with rice and green peas | 4 100,- HUF |
| Beef stew with egg barley | 3 900,- HUF |
| Roasted beef with hot lecso with eggs and steak potatoes | 6 300,- HUF |
| Grilled sturgeon with butter, fried vegetables and rice | 5 250,- HUF |
| Lecso with vegetable and polenta | 3 900,- HUF |
Salads
| | |
| --- | --- |
| Homemade mixed pickles | 840,- HUF |
| Hot pickled peppers | 840,- HUF |
| Pickled cucumber | 840,- HUF |
| Beetroot salad | 840,- HUF |
| Ice lettuce with garlic and yoghurt sauce | 1 050,- HUF |
Desserts
| | |
| --- | --- |
| Sponge cake with chocolate sauce | 1 150,- HUF |
| Cottage cheese cake with vanilla sauce | 1 150,- HUF |
No. 1
Home made meat soup
Crispy duck with braised cabbage and potatoes
Walnut sponge cake with chocolate sauce
+1 glass of drink (beer, wine, soft drinks or coffee)
No. 2
Hungarian cold hors-d' ouevre
Beef stew with egg barley and salad
Apple strudel
+1 glass of drink (beer, wine, soft drinks or coffee)
No. 3
Goulashsoup
Roasted pork mushrooms and red wine
Cottage Cheese Fritters with homemade apricot jam
+1 glass of drink (beer, wine, soft drinks or coffee)
No. 4
Home made meat soup
Paprika chicken with dumplings
Walnut sponge cake with chocolate sauce
+1 glass of drink (beer, wine, soft drinks or coffee)
No. 5
Pancake a la "Hortobágy"
Fillet of pork with Hungarian style potatoes
Apple strudel
+1 glass of drink (beer, wine, soft drinks or coffee)
Soft drinks (3.0dl)
| | |
| --- | --- |
| Lemonade | 650,- HUF |
| Raspberry syrup | 650,- HUF |
| Sour cherry syrup | 650,- HUF |
| Elderberry syrup | 650,- HUF |
| Ginger syrup | 650,- HUF |
| Cola(2.5dl) | 750,- HUF |
Juices (2.5dl)
| | |
| --- | --- |
| Orange | 650,- HUF |
| Apple | 650,- HUF |
| Peach | 650,- HUF |
| Tomato | 650,- HUF |
Mineral water
| | |
| --- | --- |
| Sparkling(3.3dl) | 650,- HUF |
| Still(3.3dl) | 650,- HUF |
| Sparkling(7.5dl) | 1000,- HUF |
| Still(7.5dl) | 1000,- HUF |
Spirits (4cl)
| | |
| --- | --- |
| Unicum,Next,Plum | 1550,- HUF |
| Martini 8cl | 1550,- HUF |
| Vodka | 1550,- HUF |
| Kognac | 1750,- HUF |
| Jägermeister | 1550,- HUF |
| Whisky | 1550,- HUF |
| Baileys | 1550,- HUF |
Beer
| | |
| --- | --- |
| Lager beer 4,3% (0,5l) /draft light beer/ | 970,- HUF |
| Lager beer 4,3% (0,3l) /draft lifght beer/ | 680,- HUF |
| Dark beer 4,5% (0,5l) /traditional dark beer/ | 1390,- HUF |
| Dark beer 4,5% (0,3l) /draft light beer/ | 840,- HUF |
| Razzia 5,2% (0,5l) /semi-dark wheat beer/ | 1430,- HUF |
| Alcohol free beer (0,5l) /draft light beer/ | 1 180,- HUF |
Wine of the house (2.0dl)
| | |
| --- | --- |
| Red | 930,- HUF |
| White | 930,- HUF |
| Rose | 930,- HUF |
Tokaji wine
| | |
| --- | --- |
| Szamorodni száraz 0,5 | 4750,- HUF |
| Szamorodni száraz 0,1 | 1000,- HUF |
| Szamorodni édes 0,5 | 4200,- HUF |
| Szamorodni édes 0,1 | 970,- HUF |
| Tokaji aszú 5 puttonyos 0,5 | 8820,- HUF |
| Tokaji aszú 5 puttonyos 0,1 | 1950,- HUF |
Champagne (7,5dl)
| | |
| --- | --- |
| Dry champagne (2dl) | 1680,- HUF |
| Hungaria extra dry | 4750,- HUF |
| Charman Doux | 3800,- HUF |
Caffe, tea
| | |
| --- | --- |
| Coffee | 650,- HUF |
| Coffee with milk | 970,- HUF |
| Capuccino | 760,- HUF |
| Tea | 650,- HUF |